February 2001

February 3rd, 2001 / Saturday / 1:00 PM

The Sebae anenome was unfortunately sucked up by a powerhead. I think I will leave anenomes alone for a while until the tank is further settled - they move around a lot and from what I've read, most are difficult to keep.


February 4th, 2001 / Sunday / 1:00 PM

Water change today of 25%. There was a trace ammonia level in the tank. I will cut down on feeding for a few days. Added a Hammer Coral from Reef Science, Euphyllia ancora. This is a beautiful green tipped coral that is very hardy.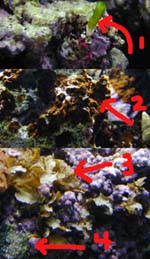 February 8th, 2001 / Thursday / 2:00 PM

The tank continues to have moderate algae problems. It is my understanding that a lot of this is due to the tank still being in its early stages. In addition to green algae very quickly covering the glass after wipe-downs, I have the following other types of algae growing in the tank:
#1 - Merman's Fingers, Neomeris annulata
#2 - Brown Scab aka Wafer algae, Lobophora variegata
#3 - Turbinaria ornata, similar to Sargassum but without the air sacs to hold it upright
#4 - Bubble algae, Valonia
I found the Hitchhiker Guide to be a great reference for algae identification.


February 16th, 2001 / Friday / 1:00 PM

Ammonia is down to 0. Added three new corals this week:
One I believe is a Kenya coral, Capnella
A beautiful frog spawn coral, Eyphyllia divisa
Bubble coral, Plerogyra sinuosa

February 18th, 2001 / Sunday / 5:00 PM

Added a new fish and three new corals from Reef Science and Aquarium Concepts. The latter has now introduced a few new short and wide tanks for coral inventory presentation.
Algae blenny aka Lawnmower blenny, Salarius fasciatus
Pink pulse coral, Xenia
Bright green Torch coral, Euphyllia glabrescens
Green star polyps, Briareum sp., formerly known as Clavularia viridis
Plus I put in three Emerald crabs, Mithrax sculptus to combat some of the algae mentioned above.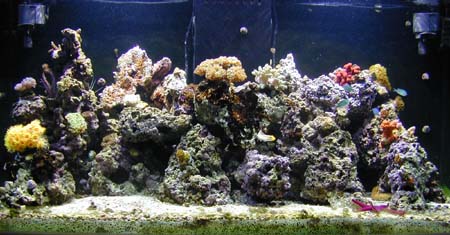 February 20th, 2001 / Sunday / 5:00 PM

Added a pink/white Scleronephthya coral from T&T's in San Jose, CA.


February 23rd, 2001 / Friday / 3:00 PM

Went to Reef Science. Added three green Chromis fish, a nice piece of live rock covered in orange polyps, and a red chili soft coral, Alcyonium.


February 27th, 2001 / Tuesday / 6:00 PM

Performed 10% water change today.