June 2001

June 5th, 2001 / Monday / 11:00 AM

Received my Aqua Fx Barracuda Model 100, 4 Stage RO/DI System from Athens Aquarium. I plan to plumb it through the kitchen sink and connect it to a solenoid for automatic top-off.


June 7th, 2001 / Wednesday / 9:00 AM

Received fish order from Anchofish:
Sunburst Anthias, Serranocirrhitus latus
Orange Anthias (female), Anthias plerotania
Bicolor blenny, Escenius bicolor - I got a new one because I think my green brittle ate the other one
June 7th, 2001 / Wednesday / 9:00 AM

Removed the bicolor blenny as it was eating my Montipora digitata. I caught it with an acrylic fish trap from Flying Fish Express.


June 16th, 2001 / Wednesday / 4:00 PM

Added a few small pieces of live rock from Reef Science, and 3 "Acropora" crabs and a pink Anthias from Aquarium Concepts.


June 19th, 2001 / Tuesday / 11:00 AM

Received frag order from Joe Kelley:
Acropora aculeus - deep blue #10 (rare)
Acropora millepora - purple/blue #18
Acropora millepora - red #20 (rare)
Montipora digitata - blue green #30
Stylophora sp. - multicolored with blue polyps #34
Pocillopora sp. - hot pink #57
Echinopora lamellosa - "Blue Chalice" originally from Steve Tyree #41
Turbinaria reniformis - Purple with yellow edges #38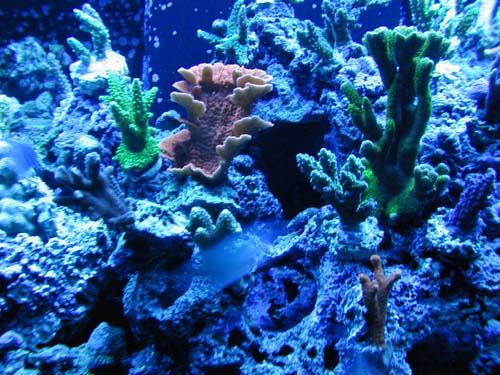 June 22nd, 2001 / Thursday / 11:00 AM

Received frag order from Reef Corner / Upscales:
Acropora sp. - deep blue (rare)
Acropora sp. - green with blue tips
Montipora digitata - bright orange
June 23rd, 2001 / Friday / 11:00 AM

Received frag order from Steve Tyree's Reef Farmers:
Acropora sp. - Steve Tyree's bright blue
Acropora horrida - exotic blue (salvaged fragment)
Acropora chesterfieldensis - green with screaming green polyps (salvaged fragment)
Montipora capricornis - Todd Hilson's green with purple edges
Montipora digitata - Jerry Irving's pink
This was a great week for adding frags. I am now going to let them grow in to see if I have any space left in my tank! The picture to the right shows the center of the tank with just the actinics on.

June 24th, 2001 / Sunday / 11:30 AM

Held a local reefer meeting for the Peninsula area. Traded some frags with:
Paul Wuelfing - purplish pink tip Acropora
Gillian Kate - electric green Hydnophora
June 27th, 2001 / Wednesday / 9:00 PM

Traded frags with a local reefer John Susbilla - "Tubs" on the boards. Added purple encrusting Montipora danae, purple/blue tip Acropora tenuis, and a bluish purple Tonga mushroom aka Rhodactis inchoata.